NOV. 09 2021
There's strong support for the United States to host future Men's and Women's Rugby World Cup tournaments.

There's overwhelming support for hosting the games here. 93% of Rugby Fans, and 80% of Sports Fans say they're on board with the United States hosting a Men's or Women's Rugby World Cup.
Sports Fans may not have much experience or familiarity with rugby, but it doesn't prevent their excitement at the prospect of the World Cup coming to America.

Only 14% of Sports Fans say they're familiar with the Rugby World Cup – and only about 1 in 10 say they're even aware that the United States has been formally accepted as a candidate to host the Men's 2027 or 2031 World Cup, or the Women's 2029 World Cup.
However, interest is strong, even among non-fans. 91% of Rugby Fans and 39% of Sports Fans say they would be interested in attending the Men's Rugby World Cup if it were held in the States. Interest is similarly strong for a potential Women's Rugby World Cup – 82% of Rugby Fans and 32% of Sports Fans express interest in attending.
Hosting the games is seen as beneficial for the country – not just because it will grow interest in the game, but because of the social and economic benefits associated with hosting a major international sporting event.

88% of Rugby Fans and 66% of Sports Fan say it would be beneficial for the United States. For Rugby Fans, their excitement relates to the prospect of how rugby could be embraced by the country – 49% say it would help grow the game of rugby in the U.S., and 44% say they support this initiative because it allows Americans to see rugby talent from all over the world without leaving the country.
Both Rugby Fans and Sports Fans recognize the significance of this type of event for the country more broadly – 39% of Rugby Fans and 40% of Sports Fans say they support hosting the World Cup because it would be a source of pride for Americans to host a prestigious international tournament. Another 44% of Sports Fans say it would specifically give a boost to our economy.
USABID.rugby
Despite not traditionally being seen as a rugby nation, America is seen as possessing the infrastructure needed to host an event of this magnitude.

There's nearly universal agreement – 90% of Rugby Fans and 78% of Sports Fans – that the United States is well-equipped to host the tournament, with the appropriate venues, necessary housing and transportation options, and exciting host cities necessary to support an international event.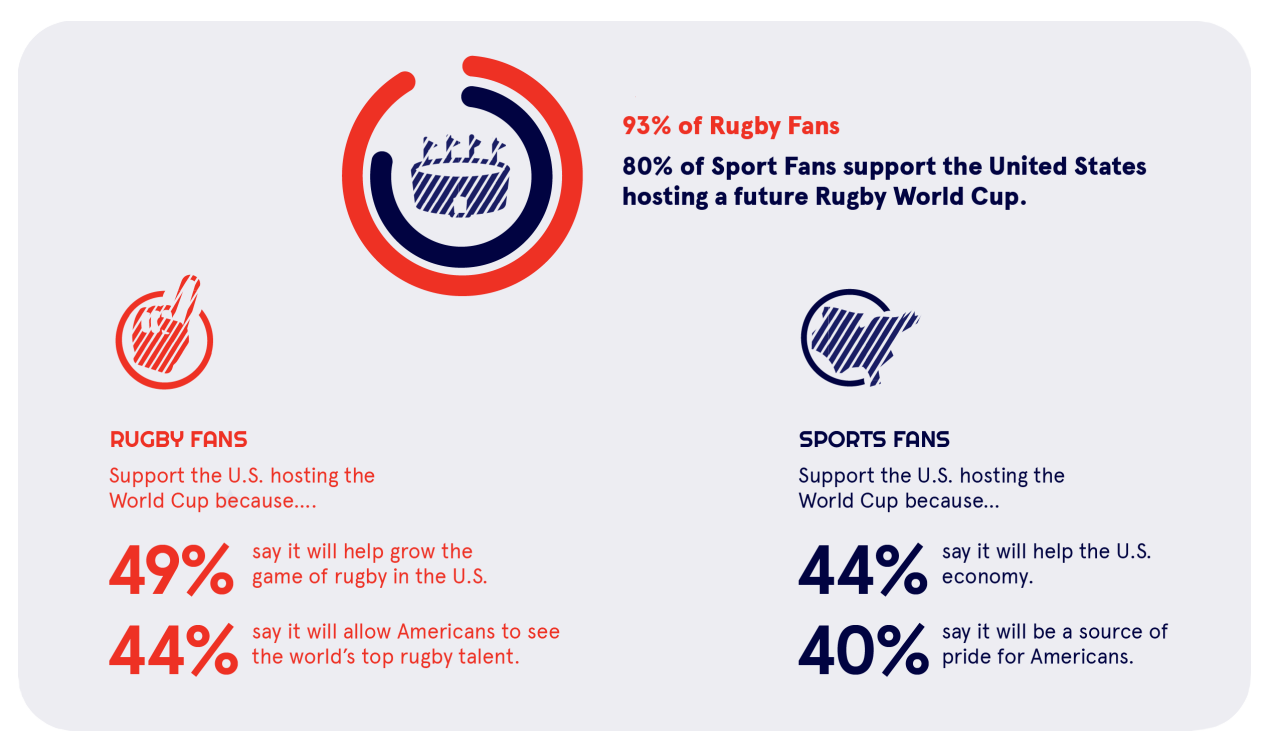 About The Poll
This online study was conducted by YouGov from October 6th – October 15th, 2021. This research surveyed 500 self-proclaimed Rugby Fans and 1,000 self-proclaimed Sports Fans. The survey was conducted online using a variety of online sample panel providers to collect interviews in the United States. Respondents were 18 years and older, and were not employed in the advertising, public relations, or marketing industries, the sports or sports entertainment industry, or in the media or market or public opinion research.