JAN. 21 2022
If you tune into NBC Sports over the next two weekends you may be pleasantly surprised to find some rugby as the HSBC World Rugby Sevens Series touches down in Spain. But if you're only familiar with Rugby Fifteens, or even unaware of the fact that there are two disciplines in rugby, you may have some questions.
Don't worry. We've got you covered.
Sevens and Fifteens: The Similarities
Culture
You'll be happy to know that the culture of unity and the electric stadium atmosphere of rugby is consistent throughout both disciplines. In this sense, rugby is rugby, and at a rugby match you are sure to find fans on their feet singing and chanting, and often dressed in country-themed costumes—almost as if it were Halloween at the UN.
Objective of the Game
Just as in Fifteens, in Sevens rugby, each team's goal is to score more points than the other. This is done through a combination of tries, which award five points and are scored by touching the ball down at the opposition's end of the field, and penalties or conversions, which award three and two points respectively and are scored by kicking the ball through the posts.
For those less familiar with rugby, it may be easier to think of this in terms of American football. A try is similar to a touchdown, except instead of just being in the endzone, the player must also touch the ball to the grass. Penalties are similar to field goals, when one team commits an infraction the other team has the opportunity to kick the ball for points. And a conversion is similar to an extra point in football, but it scores two points rather than just one.
Rules
For the most part, the rules of Sevens and Fifteens are consistent. Without getting bogged down in the small details:
The ball must be passed backward.

If the ball is passed or dropped forward, it's a turnover.

You may kick the ball at any time (though it is much less common in Sevens)
When a player is tackled, the ball must be quickly recirculated through a ruck.

In Fifteens, if the ball-runner does not go down, the ball can also be recirculated through a maul. These aren't allowed in sevens.

A tackler must hit from the chest down.
If the ball goes out of bounds, possession is turned over and a lineout is formed.
The Pitch
Fifteens and Sevens rugby play on the exact same fields. While most rugby fields will slightly vary in size, the accepted measurements are 100 meters long and 70 meters wide, with the try zones tacking on an additional 10 meters to each end.
The Differences
Number of Players and Structure of Play
As stated in the name, Fifteens has fifteen players on the field per team, comprising eight forwards and seven backs. Sevens has seven players per team, with three forwards and four backs. As a result, the way in which each team will line up on the field also varies. Take a look at the graphics below to better understand.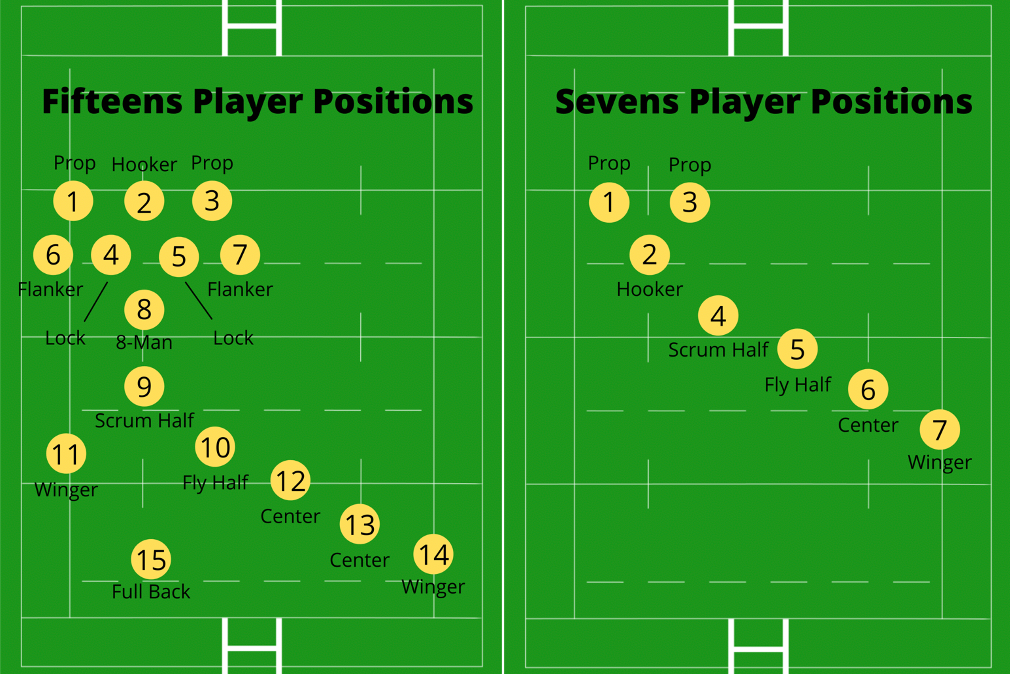 Tournaments and Length of Games
In Fifteens, a game is made up of two 40minute halves. In Sevens, a game consists of two seven-minute halves. Due to the vast difference in length, tournaments in Fifteens take place over the course of several weeks, with games spread apart by two to three days to allow for recovery. However, a Sevens tournament will generally only last two to three days, with teams playing as many as three games per day. Excitingly, over the course of a fun-filled weekend, Sevens offers the excitement of pool play and knockout rounds, ultimately crowning a champion. With Sevens tournaments lasting most the day, a true festival like atmosphere is created where fans will enjoy over 20 15-minute rugby matches as well as music, food and entertainment.
Pace of the Game
Largely due to the number of players on each team and the field size remaining consistent, Sevens is a much faster-paced game. With the nature of Sevens emphasizing speed over sheer power, Sevens players are often backs or loose forwards in Fifteens. It may be surprising to learn that despite the difference in the length of games, the average final scores in Sevens and Fifteens can be similar.
Scrums
In either game, when a ball is knocked or passed forward, the whistle will blow and a scrum is formed. However, in Fifteens, a scrum consists of eight players, while in Sevens it is just three. Each team may contest for the ball in a scrum, but in Sevens, speed is emphasized and it is far rarer for the ball to be turned over.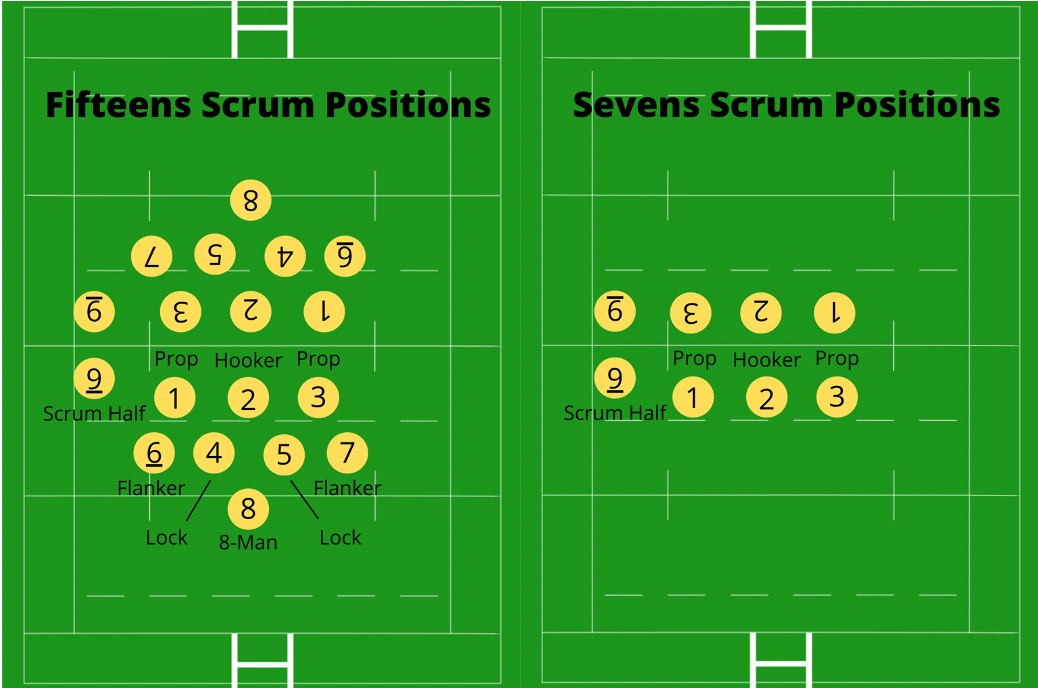 Who's the Best
With the nature of the two disciplines varying greatly, it may not surprise you that the best teams also vary. Here is a breakdown of how the rankings currently stand for each:
Men

| | | | |
| --- | --- | --- | --- |
| Fifteens Rank | Team | Sevens Rank | Team |
| 1 | South Africa | 1 | South Africa |
| 2 | New Zealand | 2 | Argentina |
| 3 | England | 3 | Australia |
| 4 | Ireland | 4 | USA |
| 5 | France | 5 | Great Britain |
| 6 | Australia | 6 | Fiji |
| 7 | Scotland | 7 | France |
| 8 | Wales | 8 | Kenya |
| 9 | Argentina | 9 | Ireland |
| 10 | Japan | 10 | Spain |
Women

| | | | |
| --- | --- | --- | --- |
| Fifteens Rank | Team | Sevens Rank | Team |
| 1 | England | 1 | Australia |
| 2 | New Zealand | 2 | Fiji |
| 3 | France | 3 | France |
| 4 | Canada | 4 | Russia |
| 5 | Australia | 5 | USA |
| 6 | USA | 6 | Great Britain |
| 7 | Ireland | 7 | Brazil |
| 8 | Italy | 8 | Spain |
| 9 | Scotland | 9 | Ireland |
| 10 | Spain | 10 | Canada |

Still have questions? Check out this video posted by World Rugby a few years back.

Sevens in the United States
As seen above, the Unites States are highly competitive, ranking in the top 10 for both men and women. This is exciting for USA fans, as both teams each year are in the mix for HSBC World Rugby Sevens Series podiums, along with perennial medal contenders at the Summer Olympic Games. The United States also played host to the Rugby World Cup Sevens in 2018. Held every four years, this tournament brought the best of the best in Sevens to the AT&T Park in San Francisco where 100,000 seats were filled over three days. The 2018 Rugby World Sevens remains the highest attended rugby event in US history. More notably, the attention and success showed what immense potential the United States has for large scale rugby tournaments.