DEC. 16 2021
A U.S.-hosted Rugby World Cup presents huge opportunities for the growth of the sport, young players and the communities that will host. Bringing the marquee event to American soil opens so many promising doors; where exciting, energizing and mobilizing longtime rugby fans might be the biggest opportunity of all.
We chatted with Warren Mullis and Preston Thompson – hosts of the American Rugby Podcast and super fans of the USA Eagles – about some of their favorite memories growing up with rugby and why they believe the sport is so unique.
What is it like to attend an international rugby match? Can you describe the experience?
Warren: They're an absolute blast. It's like being in a stadium jam packed with friends and family. A rugby crowd is filled with folks who love the game, but also enjoy having a good time at a sporting event.
Preston: Few sporting events compare to an international rugby match. You can feel the passion, electricity and camaraderie throughout the stadium as people in jerseys and costumes join together. The raucous crowd draws energy from the players on the field, and vice versa. Everyone is welcome; former ruggers, families and rowdy groups of lads and ladies all cheering together for their country. But you don't have to be a supporter of either nation to enjoy the match, and in some cases being a neutral fan is even more fun.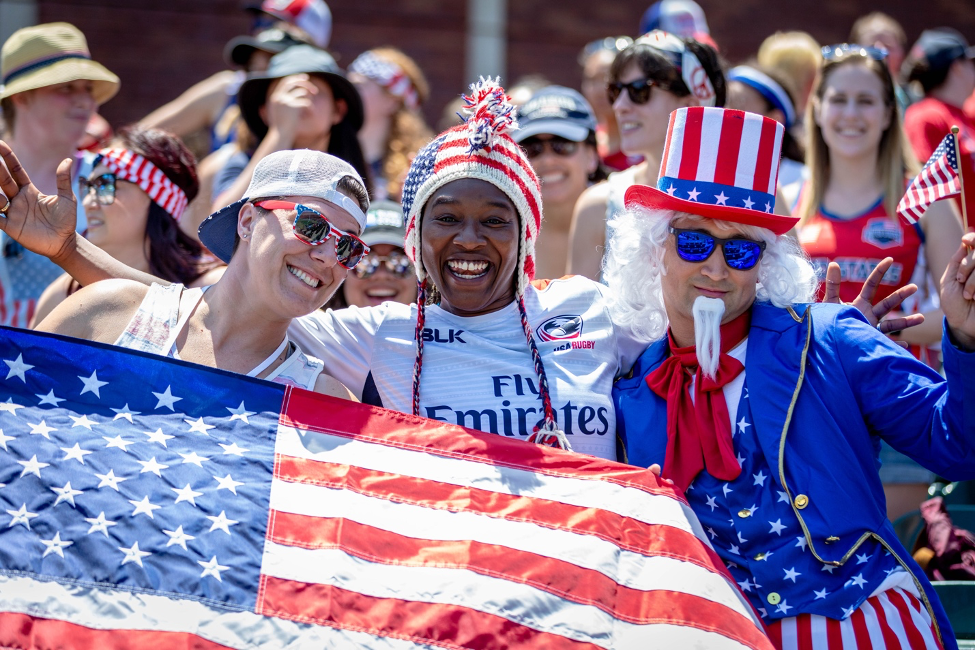 What makes rugby so exciting to watch, in person and from home:
Warren: Rugby is like no other sport in the world. There are so many different strategies and storylines unfolding at the same time. Whether you are watching from home or in person, it's great to be a part of the complex story unfolding right in front of you.
Preston: Rugby combines the offensive improvisation of basketball and soccer with the physicality of hockey and football. Apart from scrums and lineouts, everyone is required to do the same work. Experiencing the immediate highs and lows that come with a big break or a just-missed pass are enough to keep fans and spectators hooked for all 80 minutes.
What are your favorite Rugby World Cup memories?
Preston: Watching Taku Ngwenya speed by Bryan Habana for a try in the 2007 USA vs South Africa match is my favorite Rugby World Cup memory. I had only started playing three years earlier and was just beginning to follow the Eagles. The excitement that I felt watching that instant-classic score is a huge reason that I still follow the Eagles so closely.
Warren: My favorite Rugby World Cup memory was watching USA defeat Russia in the 2011 Rugby World Cup in New Zealand. I enjoyed seeing a core group continue on from the 2007 Rugby World Cup and the team greatly improved. I remember Mike Petri's try and the tough physical tackles coming in all day from guys like Todd Clever.
Tell us about your first ever USA Eagles match:
Warren: My first Eagles match was in 2014 when USA took on New Zealand at a sold-out Soldier Field in Chicago. I was blown away by the great atmosphere and being surrounded by so many rugby fans. It was great to see the Eagles I had been watching for so long live and I enjoyed seeing some of the biggest names in rugby playing for the All Blacks.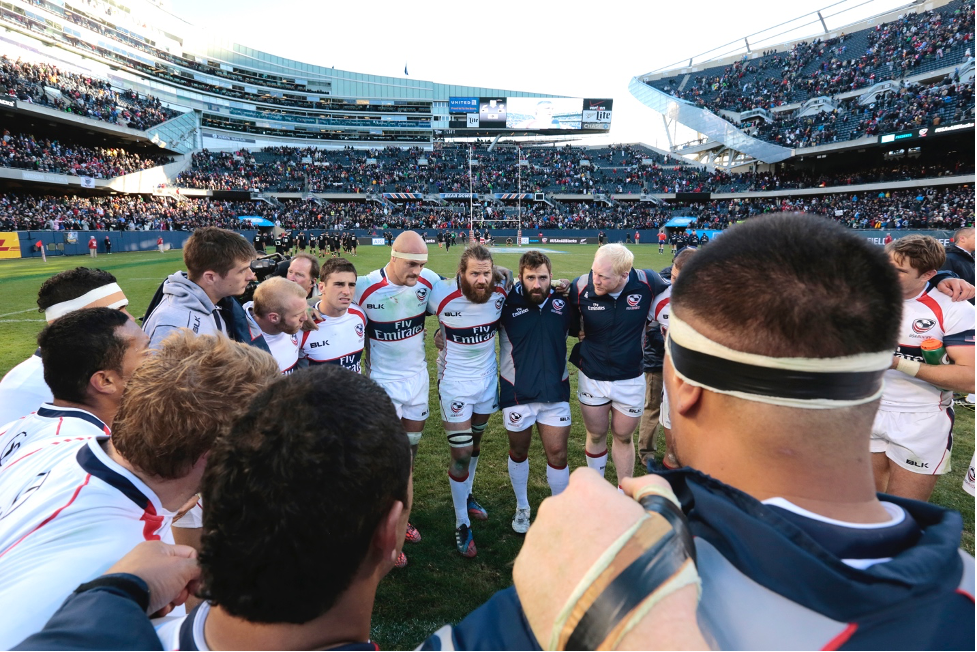 Preston: The Eagles were nice enough to come to a city near me down in Georgia. Shout out to Fifth Third Bank Stadium at Kennesaw State University, hooty hoo! The Eagles were playing Uruguay in Rugby World Cup qualification. Having tied the previous match in the series, the winner of this one went on to the big dance. I had a blast tailgating and I even made it onto the pitch with the USA South Panthers at halftime to commemorate the team. The Eagles finished on top with some phenomenal tries, and I caught a conversion kick. I also spoke with Shaun Davies in the stands before his long stint with the Eagles about how I looked forward to seeing him on the field in the future. The entire experience was exactly what gets people hooked on rugby.

We were so grateful to catch up with Warren and Preston to hear why rugby and the Rugby World Cup excites them. Dedicated to the game as players, promoters and fans, Warren and Preston represent a community of rugby supporters eager to see the American game reach its full potential. A Rugby World Cup on U.S. soil brings new eyes, new investment and new opportunities for all USA Rugby fans to get behind and support the bid.
We want to hear from you as well. Reach out via social media (Twitter, Facebook, Instagram, LinkedIn) to share your story: tell us how you got into rugby and what it would mean to you to attend a Rugby World Cup on home turf. We may share your story with others around the world who are excited to see this incredible event come to the United States.